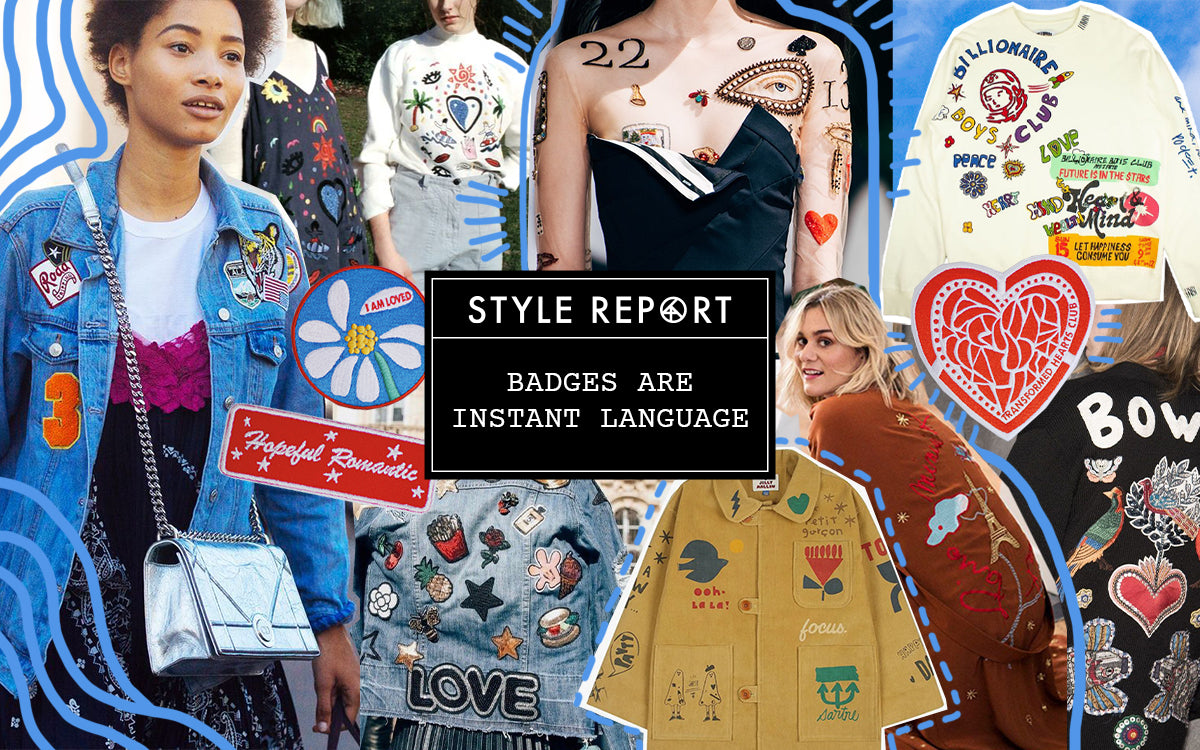 Miuccia Prada once said, "What you wear is how you represent yourself to the world, especially today, when human contacts are so quick. Fashion is instant language." We believe badges are also instant language. They have the ability to share your stories, values, interests, accomplishments, and so much more - similar to the way tattoos are used today. Tattoos are viewed as a way of self expression and to commemorate monumental moments in life. A Kiev-based brand, TTSWTRS, short for Tattoo Sweaters, tapped into this notion of self-expression by creating garments that act as a second skin for those weary of getting tattoos. Traces of this tattoo-like applique popped up in past runway shows, too. Badges, just like tattoos, can be permanent when chosen with meaning and intention.

Not only are badges able to speak to the different parts of who we are as individuals, but they can apply to a range of garments. Here are a few ways we plan to wear our badges:
1. ALL THINGS DENIM
Your jeanie is calling and it's time for you to add your own unique touch. Jean jackets are a classic staple piece so by adding a badge or ten you can't really go wrong.  We also love seeing badges on a pair of jeans or overalls!

2. COZY BASICS
The infamous sweatsuit (or legging and hoodie combo) has become the WFH uniform and we are not mad about it. But we do believe they could use a little spicing up so we highly suggest adding a badge on the pocket, sleeve or all over to make a subtle, yet striking statement. We're sure these will make great Zoom meeting conversation starters!

3. FANCY OUTERWEAR
Bustling about the city in colder months results in many layers and often our big bulky coats cover up our cute outfits underneath. Use badges to add personality to your outerwear. Who knows, it could be an incognito advertisement on the subway to seek out who around you shares your interests. Again, another great conversation starter!

Truly, there is no wrong way to wear a badge as long as you wear it proudly and confidently (but before applying them please make sure the fabric is compatible with the adhesive - view suggested fabrics and ironing instructions here.). For us, badges are a way to remember every adventure, lesson learned, and show the world what we have accomplished.
ABOUT LADORU STYLE REPORTS
Trends are ever changing, but Style is forever. Ladoru Style Reports are curated to help you build your forever wardrobe. Stay tuned for future Style Reports!